STED: Ford Field, Detroit, MI (Kapacitet: 78,000) (Link) (Lokal Tid) (Website)
INFO: UDSOLGT! (41.000 billetter???). Dørene åbner kl. 19. Alice In Chains spiller kl. 20:30. GNR forventes at gå på scenen mellem 21:45-22:00 (04:45-05:00 dk tid).  Bandet gik på 21:42 (04:42). Axl er i godt humør og taler med publikum. Axl ændrer teksten i "Estranged" til: "How could I say that I never needed you", sikkert en hentydning til Slash & Duff. Duff synger Raw Power. På et tidspunkt i showet bærer Duff og Axl den næsten samme T-shirt hvorpå der står: "Detroit: Where the Weak Are Killed And Eaten." Publikum blev vilde, da Axl lænede sig mod Slash under KOHD. Showet slutter 00:18 (06:18).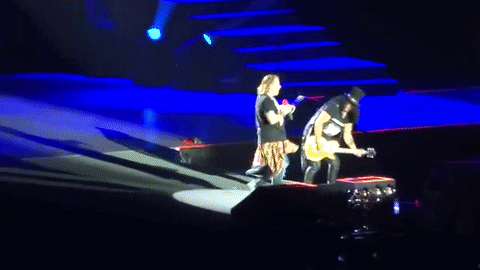 AUDIO/VIDEO:
VARIGHED: 2t. 35 min.
SANGE:
Looney Tunes Intro
Intro – The Equalizer
It's So Easy
Mr. Brownstone
Chinese Democracy
Welcome to the Jungle (#2)
Double Talkin' Jive
Estranged
Live and Let Die
Rocket Queen
You Could Be Mine
Raw Power
This I Love
Civil War
Coma
Speak Softly Love (Love Theme From The Godfather)
Sweet Child O' Mine
Better
Out Ta Get Me
Jam ("Wish You Were Here")
November Rain
Knockin' on Heaven's Door
Nightrain
Encore:
Jam/Don't Cry
The Seeker
Paradise City
Kommentar:
Senest GnR var i Detroit var i The Fillmore Detroit, den 21. februar, 2012 og The Palace Auburns Hill den 1. december, 2011. Med det gamle lineup var det i State Theater den 7. maj, 1988 og State Theater den 21. august, 1987.
LINKS:
http://www.detroitnews.com/story/entertainment/music/2016/06/24/review-guns-n-roses-ablaze-at-ford-field-tour-kickoff/86305106/
http://www.theoaklandpress.com/arts-and-entertainment/20160624/review-guns-n-roses-tour-kickoff-blows-the-roof-off-at-ford-field
http://www.freep.com/story/entertainment/music/brian-mccollum/2016/06/24/guns-n-roses-detroit-concert-review-ford-field/86323116/