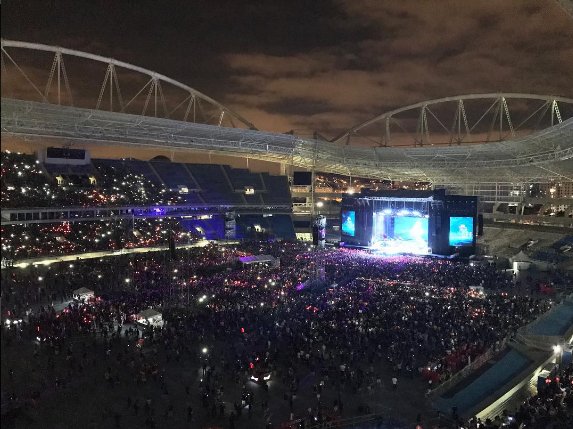 STED: Estadio Nilton Santos-Engenhao, Rio De Janeiro, BR (Kapacitet: 45.000)(Link) (Lokal Tid)
INFO: Plebe Rude åbner kl. 19:15. GnR spiller kl. 21. (midnatstid). GnR gik på nogle minutter over midnat dansk tid. Ifølge brasiliansk tv er der 50.000 fans der. Showet sluttede 23:35 (02:35 dk tid). Overraskelserne var Out Ta Get Me og Yesterdays!
AUDIO/VIDEO:
VARIGHED:
SANGE:
Intro – Loony Toones
It's So Easy
Mr. Brownstone
Chinese Democracy
Welcome To The Jungle
Double Talkin' Jive
Better
Estranged
Live and Let Die
Rocket Queen
You Could Be Mine
Duff's Solo – Can't Put Your Arms Around A Memory/Attitude
This I Love
Civil War
Coma
Band Intros
Jam+Godfather Theme/Sweet Chiid O' Mine
Richard N' Slash – Wish You Were Here
Layla/November Rain
Knockin' On Heaven's Door
Nightrain
Encore
Jam-Babe I'm gonna leave you/Don't Cry
The Seeker
Paradise City
KOMMENTAR:
Første gang GnR besøgte Rio de Janeiro var ved 2 udsolgte (?) shows for 180.000 tilskuere på Maracana Stadium ved Rock In Rio II festivalen den 20. og 23. januar 1991. Det var også det første show med Matt Sorum bag trommerne. De vendte tilbage igen til byen den 13. december 1992 på Autodrome.
Med det nye lineup uden Slash og Duff, osv, besøgte GnR igen byen og spillede på Apoteose den 4. april, 2010. Senest hvor de besøgte Rio var den 20. marts, 2014 på HSBC Arena.
Andre begivenheder: Paul McCartney (22-23/5/2011), Roger Waters (29/3/2012).
Spillestedet kan holde fra 20-45.000 tilskuere ved livekoncerter.