JAPAN
Januar
21 – Kyocera Dome, Osaka
22 – Kobe World Memorial Hall, Kobe
25 – Yokohama Arena, Yokohama
28 – Saitama Super Arena, Tokyo
29 – Saitama Super Arena, Tokyo
NEW ZEALAND
Februar
02 – Westpac Stadium, Wellington, NZ. Stærke vinde i NZ forsinkede bygningen af scenen dagen før.
04 – Western Springs Stadium, Auckland, NZ
AUSTRALIEN
Februar
07 – QSAC Stadium, Brisbane, QLD
10 – ANZ Stadium, Sydney, AU. Angus Young optræder med Whole Lotta Rosie & Riff Raff.
11 – ANZ Stadium, Sydney, AU. Angry Anderson (Nice Boys) og Angus Young (Whole Lotta Rosie & Riff Raff).
14 – Melbourne Cricket Ground, Melbourne, VIC. Angus Young optræder med Whole Lotta Rosie & Riff Raff.
18 – Adelaide Oval, Adelaide, SA
21 – Domain Stadium, Perth, WA
ASIEN
25 – Changi Exhibition Centre, Singapore. Bandets første besøg i landet.
28 – SCG Stadium, Bangkok, Thailand. Bandets første besøg i landet.
Marts
03 – Autism Rocks Arena, Dubai, UAE.
08 – Det meddeles, at GnR vender tilbage til Rio de Janeiro, Brasilien, for at spille på festivalen d. 23. september, 2017.
EUROPA
Maj
03 – Guns N 'Roses' første kvindelige medlem er blevet et rockikon (Kilde)
"I had no idea what I was getting myself into," Reese says. "But I'm eternally grateful to Axl and the rest of the band for taking a chance on me."
13 – Axl gæstesynger på "Highway To Hell" og "Big Shot" ved Billy Joels show på Dodger Stadium, Los Angeles. Pink gæsteoptræder først med "New York State of Mind" og hendes egen sang "Try" (Kilde)
27 – Slane Castle, Dublin, Ireland. Bandet spiller "Black Hole Sun" for første gang, som en hyldest til den nyligt afdøde Chris Cornell (Soundgarden).
30 – San Mames Stadium, Bilbao, Spain.
Juni
02 – Passeio Martimo De Alges, Lisbon, Portugal
04 – Vincente Calderon Stadium, Madrid, Spain
07 – Letzigrund, Zurich, Switzerland. Axl tilegner showet til sin hund Rosie, der døde for nylig.
10 – Greenfield, Imola, Italy. Det eneste show i Italien, er på den legendariske racerbane.
13 – Olympiastadion, Munich, Germany
16 – Olympic Stadium, London, UK
20 – Stadion Energy, Gdansk, Poland
22 – Messe, Hannover, Germany. Showet stoppes midlertidigt pga. tordenvejr, og genoptages efter en times pause. Angus kommer på scenen og spiller Whole Lotta Rosie & Riff Raff.
24 – Classic, Werchter, Belgium
27 – Telia Parken, Copenhagen, Denmark
29 – Friends Arena, Stockholm, Sweden
Juli
01 – Kantolan Tapahtumapuisto, Hameelinna, Finland
04 – Letnany Airport, Prague, Czech Republic
07 – Stade De France, Paris, France. KOHD tilegnes til Paris og ofrene og alle berørte af terrorangebene.
10 – Ernst Happel Stadion, Vienna, Austria
12 – Goffert Park, Nijmegen, Holland
15 – Hayarkon Park, Tel Aviv , Israel
NORDAMERIKA #1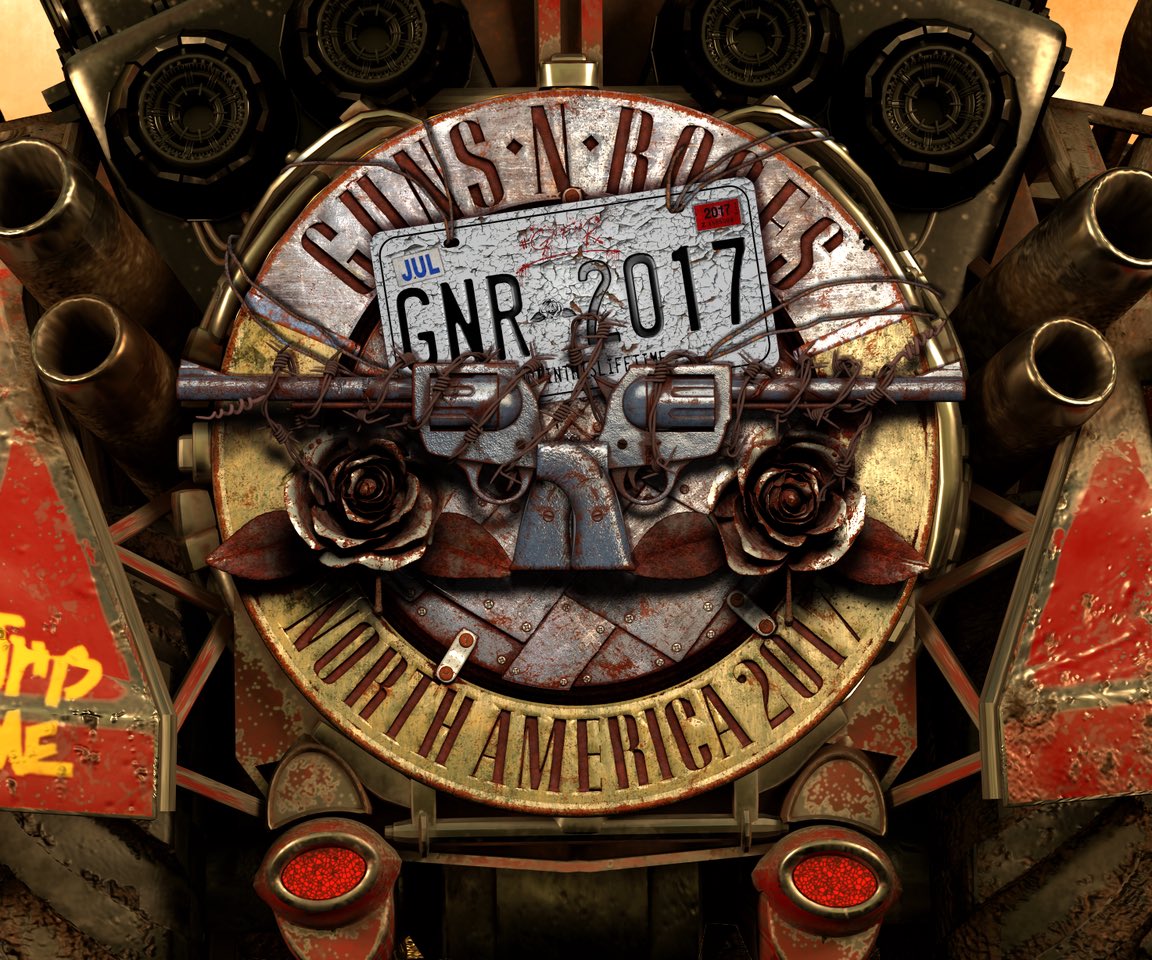 20 – Apollo Theatre, New York (Særlig invitation)  (Livestream SiriusX)
27 – Dome At America"s Center, St Louis, MO. Dette er Richard Fortus' første show med sit band i sin hjemby!
28 – Axl går på scenen igen ved Billy Joels show i Target Field, Minneapolis, og synger på på "Highway To Hell" og "Big Shot". (Kilde)
30 – US Bank Stadium, Minneapolis, MN
August
02 – Sports Authority Field At Mile High, Denver, CO
05 – War Memorial Stadium, Little Rock, AR. Første show i Arkansas nogensinde.
08 – Marlins Stadium, Miami, FL
10 – Harley-Davidson er glad for at annoncere lanceringen af ​​en særlig kapselsamling, sammen med Guns N 'Roses (Kilde)
11 – BB&T Field , Winston-Salem, NC. Det hidtil korteste show på turneen indtil videre på 23 sange.
13 – Hersheypark Stadium, Hershey, PA
16 – New Era Field, Buffalo, NY
19 – Parc Jean Drapeau, Montreal, QC. Der var en masse i pitten der var vilde, og en del blev smidt ud af sikkerhedsfolkene indenfor de første 10 sange! Axl slutter showet af med ordene: "And it was… Awesome! We tore the place up without tearing the place apart!"
21 – TD Place Stadium, Ottawa, ON. Axl lykønsker publikum for at overleve solformørkelsen, der finder sted under showet.
24 – Investors Group Field, Winnipeg, MB
27 – New Mosaic Stadium At Evraz Place, Regina, SK
30 – Commonwealth Stadium, Edmonton, AB. Bandet spiller Glen Campbell's sang "Wichita Lineman" for første gang, som en hyldest til den nylige afdøde sanger. En anden hyldestsang er "I Got You (I Feel Good)", der også blev øvet i "al hemmelighed" ved de seneste shows.
The Gorge Amphitheatre, George, WA. Foto: Guillermo Rodriguez
September
01 – Place Stadium, Vancouver, BC. Catcher In The Rye støves af igen, fra sidst den blev spillet d. 23. november, 2016 i Colombia.
03 – The Gorge, George, WA. GnR besøger for første gang The Gorge Amphitheatre, der betragtes som en af ​​de mest naturskønne koncertsteder i verden (og USA). Stedet ligger ca. 240 km øst for Seattle, der som bekendt er Duff's hjemby.
06 – Sun Bowl Stadium, El Paso, TX. På vej til showet, ramte tourbussen en hjort.
08 – Alamodome, San Antonio, TX
SYDAMERIKA
23 – Rock In Rio Festival , Rio De Janeiro, BR. Showet livestreames på brasiliensk tv, som kun de og Nordamerika kan se (Landekode). Dagen efter (samme dag) kan man se showet på Youtube.
26 – Allianz Parque, Sao Paulo, BR
29 – Estadio Nacional, Santiago, CL
Oktober
01 – Estadio La Plata , Buenos Aires, AR. Axl beder publikum om at tage et skridt tilbage efter Mr. Brownstone, for at forhindre at folk kommer til skade. Det gør han 2 gange mere senere.
NORDAMERIKA #2
08 – Wells Fargo Center, Philadelphia, PA
11 – The Garden, New York, NY
15 – The Garden, New York, NY
22 – TD Garden, Boston, MA
26 – Quicken Loans Arena, Cleveland, OH
29 – Air Canada Centre, Toronto, ON
02 – Little Caesars Arena, Detroit, MI
06 – United Center, Chicago, IL
10 – Houston Toyota Center, Houston, TX
14 – BOK Center, Tulsa, OK
17 – T-Mobile Arena, Las Vegas, NV
21 – Oracle Arena, Oakland, CA
24 – Staples Center, Los Angeles, CA
25 – The Forum, Inglewood, CA
LINK:
http://www.gunsnroses.com/tour